S.P.A.C.E. 2023
Spirits + People + Animals + Creatures + Echoes
KAMALA TODD
The land is language
I love these lands where I was born. I am connected to this place, my home. These lands of the hən̓q̓əmin̓əm̓ and Sḵwx̱wú7mesh speaking people have nurtured me and my children, who were also born here. These are not my ancestral lands, and so I spend time getting to know this place with gratitude and humility, responsibility and care. I am in awe of the stories told in the land, and I pay special attention to the rocks (grandfathers), and the plants (grandmothers). My cultural teachings shaped my deep understanding that we are supposed to live in relationship and reciprocity with all our kin. These photos capture my view as one way to bring this place alive for continuous reflection, learning, listening, and appreciation of the lessons and reminders all around us. 
Biography
Kamala Todd is a Métis-Cree mother, Indigenous planner, filmmaker, and educator born and raised in the beautiful lands of the hən̓q̓əmin̓əm̓ and Skwxwú7mesh-speaking people, aka Vancouver. She has a Masters degree in urban Geography from UBC and works at the intersection of film and urban planning to support decolonizing the city and dominant narratives. For several years Kamala was the City of Vancouver's Aboriginal Social Planner and she was the City's first Indigenous Arts and Culture Planner. Recently, she was consultant and writer on the Vancouver UNDRIP Strategy. She teaches as adjunct professor at SFU Urban Studies and UBC SCARP. Kamala's media production company is Indigenous City Media and her film credits include Welcome to Our Homelands, Indigenous Plant Diva, Cedar and Bamboo, RELAW: Living Indigenous Laws, and Sharing our Stories: the Vancouver Dialogues Project. She has curated diverse multimedia programs and art exhibits including Words Rising, Birds Rising, and We Carry our Bundles Forward. Kamala lives with her family in Gibsons on the Sunshine Coast.
---
KRISTOPHER GRUNERT
OGXYZ
OGXYZ is a collaborative project between Jonathan Plashkes, Geordie Milne, and Kristopher Grunert.
LiDAR is often used to determine the raw value of old-growth forests before harvesting. OGXYZ uses the technology to create 1:1 digital twins of the unprotected trees, creating traditional art, explorable VR environments, and metaverse-ready sculptural AR models. OGXYZ aims to create the awareness needed to shift to a regenerative economy, preserving the ecological and cultural heritage of BC's ancient forests. 
This image was created from a scan of an unprotected Douglas Fir tree established in 1540ce on the Territory of the shíshálh Nation. 
Spectators will be able to scan a QR code and 1:1 digital of the tree will be visible on Kits Beach through their mobile phones. 
Biography
Award-winning architectural and industrial photographer Kristopher Grunert has been making photographs for two decades, working in Canada, united states, Europe, Mexico and China.
Grunert uses lines, atmosphere, movement, and light to capture cinematic compositions. He is especially interested in energy, design, technology, natural resources, structures, and community, always with a sense of journey. grunertimaging.com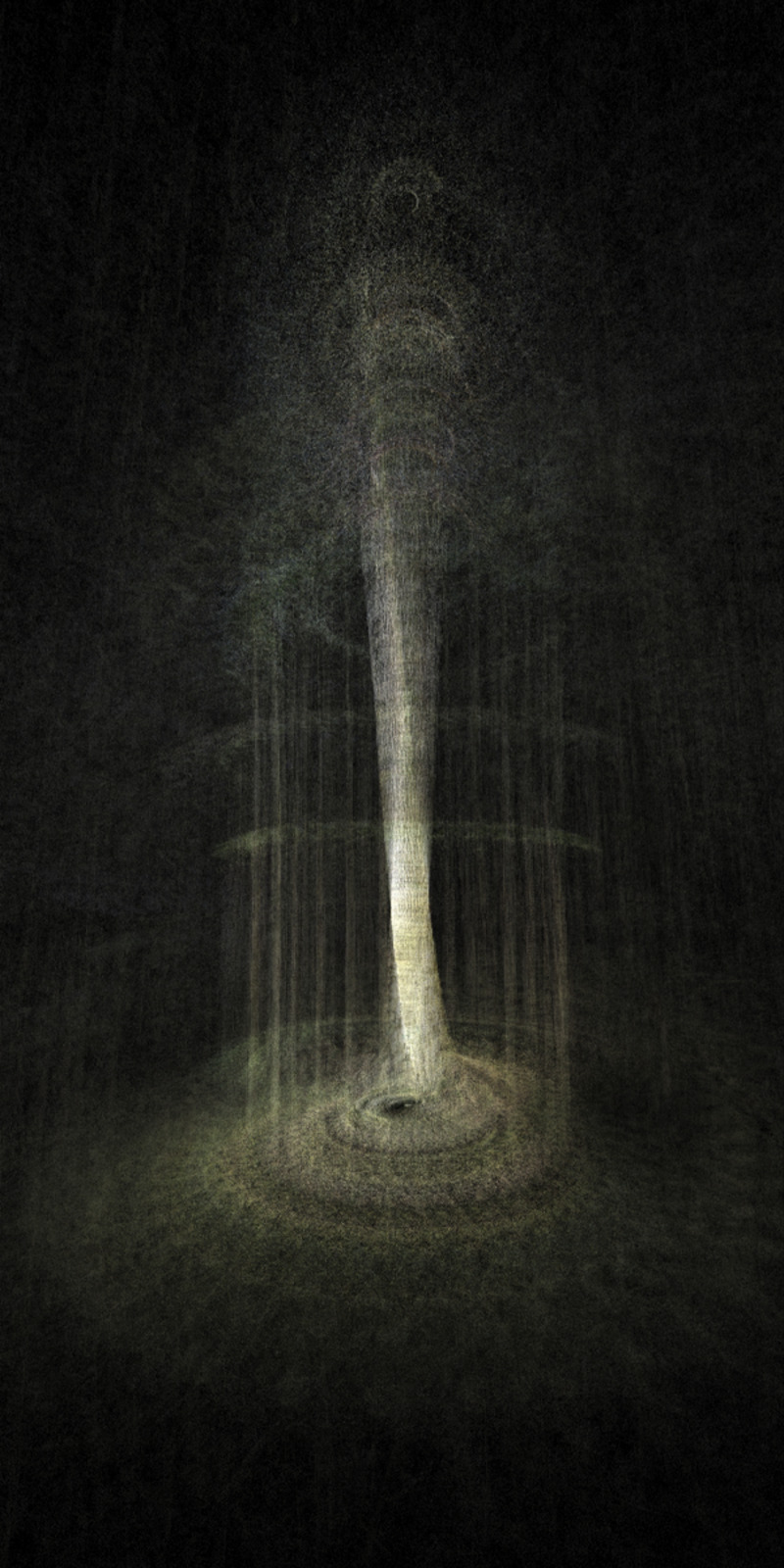 ---
SUSI MILNE
NEW SUPERFINE BLISS
NEW SUPERFINE BLISS is an original painting representing my journey over the bridge to Recovery as I see it now, some twenty years of sobriety from Alcohol Use Disorder. On the left - a grunge pit of bottles and drug paraphernalia, the casual and unsightly debris of my hellish addiction and despair, reflecting the bottoming out from using substances, manifesting from trauma, old sadness-es and fear incarnate. In the centre of the image is a gleaming golden bridge which leads to a Cosmic explosion of luminosity so bright that it would outshine a billion of our Suns. This is my personal quasar Tibbe7; which shoots out light at 300,000 km/second from its gorgeous supermassive black hole who lives and breathes in the middle of my personal galaxy "DivinityTwentyOne".
You will see that I am pictured here dancing with my kitty-cat friends ever so wildly and happily in the middle of that glorious quasar.
Pictured on the bridge are two characters from the Narnia books; in particular The Silver Chair by C.S. Lewis. In this adventure tale about the power of Love, the children come upon a Prince who is under a silencing spell until s/he recognizes and speaks the word Aslan (Loving Kindness), at which point they are freed.
That was my story and today, I'm in New Superfine Bliss.
Biography
Susi Milne is a Canadian artist known for her drawings, watercolours, and mixed media art pieces. Her works range from paintings, paper and textile sculptures and video/photo-based art to poetry/performance art. Milne's eclectic practice is informed through life and work as "Living Art".  Milne has a dedicated and picturesque history with several founding Artist Run Centres in Vancouver, BC. This work includes serving as the President of the Board of Directors at grunt Gallery, through the 2000's; early years as program director at the Western Front Society, and with on-going engagement with the robust Vancouver art community.
Milne has exhibited and performed her artwork and performance/poetry nationally and internationally over the years.  Milne's work was featured as part of Quantum Smack, and on-line exhibition created as part of grunt gallery's 2023 Mount Pleasant Community Art Screen Digital Storytelling;  digitalstories.ca/video/quantum-smack.  Milne has exhibited with IMAPON since 2019.
Creative media content is published daily on Milne's Instagram (@tibbedragon777 and @susimilne777artwork).
---
LAURA LEE COLES
The Sunflower Mosaics
The sunflower has universal appeal and symbolism throughout the world. To many cultures the Sunflower represents  adoration, loyalty and longevity. Often referred to as "happy" flowers, sunflowers are the "perfect gift to bring joy to someone's day or as a treat for yourself." Sunflowers are also the national flower of Ukraine. The motivation to bring this work for display is in support of peace during the Ukraine Crisis.
The Sunflower Garden Project was originally created during my artist residency at Aberthau / West Point Grey Community Centre in collaboration with the Pre-School in 2014. From the moment the seed was planted by the students and throughout the lifespan of the garden fellow artist-in-residence Rob Scharein and myself tended the garden. During those months, I photographed thousands of images of the life cycle of the Sunflowers from May through November. Over the following years, I created a series of digital mosaics comprised of these photographs.
In addition, one of my sunflower mosaics is in a stationary installation at Aberthau Mansion as a public art installation. I hope that the banner draws attention to that work and serves as an informal invitation to the curious art viewer to go to Aberthau Mansion at West Point Grey Community Centre.
Biography
Laura Lee Coles is an arts-based researcher, published writer and practicing interdisciplinary artist. Laura Lee's interest in the interconnected relationships between human, technology, and nature drives the inspiration of her interdisciplinary arts practice. Her work has exhibited in galleries, including international digital arts and music festivals in Canada, the United States, and Europe. She holds a Master of Arts from Simon Fraser University from the School of Interactive Arts and Technology (SIAT) and is the founder of IMAPON/LocoMotoArt, artists-in-residence with Decolonization, Arts and Culture Vancouver Park Board in British Columbia, Canada at McBride Park, Kitsilano.
---
Laura Lee Coles
Creatures
Drawing from various cultures, who have mythological creatures and my explorations using a camera, I gravitate towards the natural environment to find "creatures." I find them in the geological areas and in a variety of forests and gardens, including the various lizards I often find while exploring. I also capture various abstractions found within the decaying urban and industrial environment.
The banner is a representation of several triptychs fused together to imply the "spirit of place" as many cultures believe we are perhaps surrounded by imaginary creatures, beings, and spirits all the time. When searching for them and we "see" them, it presents the interplay of Pareidolia, the phenomena of the human mind seeing faces in rocks or other inanimate objects.
The "rock faces" were photographed from the lava fields of the Big Island of Hawaii and appear abstract and otherworldly; the trees and plants were photographed in Jericho and Kitsilano Beach Parks in Vancouver, B.C. and the various coastal and rain forests found on the Big Island of Hawaii.
One creature presented here in a row of triptychs resides just off the Kitsilano Beach parking lot near the south corner outside of the tennis court near Arbutus.
If you search for this creature, they will greet you as they greeted me. If you find them, please take a photo and load it on Loco Moto Art Facebook page found at: Loco Moto Art Collective.
---
ROB SCHAREIN
Symmetric Energies
These intricate designs are based on engravings done by Leonardo da Vinci. Using my software KnotPlot, I painstakingly traced the interlacing and realized the knot mandalas in three dimensions. This allows one to virtually fly through the designs or to cut them into pieces and have them untangle themselves. Glowing with their own self-illumination, they become objects of peaceful contemplation. Question for the viewer: how many individual strands are in each of the knot mandalas?
Biography
As a former Astrophysicist, Rob is keenly interested in the interplay between Science, Art and Mathematics. He is a developer of high performance graphics software that draws from the beauty of Nature to create engaging interactive art pieces.Rob holds a Ph.D. in Computer Science from the University of British Columbia. His arts practice interests include computer generative, gesture control and interactive installations, including 3D Virtual and Augmented Reality environments. Rob has exhibited his work at museums and arts festivals internationally, as well as live performace works and theatre.