S.P.A.C.E. 2022
Spirits + People + Animals + Creatures + Echoes
KRISTOPHER GRUNERT
Time and Energy / Temps et énergie
Light Knows Not Time or Space. By objectifying it and embodying it, I become a sort of mirror which give it reference and leads to awareness or self-actualization. 
When photographing a structure, I not only think about its design and the site in front of me, but the intention of the creator to uplift those who experience it. I focus on the materials and the forces it took to construct it. I strive to capture the energy expelled by the hard work throughout this monumental task of transforming raw materials into a finished object. These great feats provide a source of inspiration that opens me up to creativity, which then multiplies. 
I simply want to share my appreciation with the viewer to inspire them. I want you to imagine yourself there, feeling as I did when making the photograph, that sense of connection to a vast source of unlimited energy.
Biography
Award-winning architectural and industrial photographer Kristopher Grunert has been making photographs for two decades, working in Canada, united states, Europe, Mexico and China.
Grunert uses lines, atmosphere, movement, and light to capture cinematic compositions. He is especially interested in energy, design, technology, natural resources, structures, and community, always with a sense of journey.
grunertimaging.com
---
AARON RICE Kaien'keha:ka (Mohawk) First Nation
Where The White Ravens Nest
This work is an interdisciplinary performative sound and visual installation but will also display as a banner. It is said that ravens used to be white and turned black while carrying fire. In this work, I am drawing from the varied tales of raven that have been passed forward through story and cultural practices. I invite the viewer to sense a time before there was light in the world. I present this notion of darkness and light as the main focus of the installation as I seek to create a visceral experience. The installation is also about origins and birth inclusive of the cosmic energies that continue to expand forward.
Where The White Ravens Nest is comprised of textile panels, elk-hide drums, video projections, an audio component and paper nests that pulsate with light. It is anchored in the lore and history of kinship between humans and ravens. This work also explores different narratives of the winged trickster, as mischief-maker and messenger of knowledge.
Biography
Aaron is an emerging interdisciplinary artist of the Kanien'keha:ka (Mohawk) First Nation. His work combines the mediums of printmaking, video, textiles and sculpture. His work focuses on the manipulation and assemblage of materials, employing the elements of movement, pattern and indigenous cultural reference. His work is informed by teachings of the land and traditional forms of artmaking. He seeks to explore concepts of indigeneity, queerness and land/spirit relations. His work has exhibited with LocoMotoArt at Queen Elizabeth Park (2013), Patterns (2014) at Aberthau Mansion, Oscillations (2015) and S.P.A.C.E (2021) at McBride Park. His most recent video installation Fire.Heart.Spirit. was created for the Response: Our Land Narrative exhibition at The Polygon Gallery in North Vancouver, B.C. (2021). He co-curated Currents, an exhibition which showcases art by indigenous student, faculty and staff art at Emily Carr University of Art and Design (2022). He lives in Vancouver, B.C. and is currently pursuing a BFA in Visual Arts at ECUAD.
On August 26 and 27th, Aaron will present Where The White Ravens Nest as a performative sound and visual installation at McBride Park from 8:30 p.m. – 11:00 p.m. at the tennis court between Waterloo and Collingwood Streets.
---
RUSSELL WALLACE —  St'at'imc Nation (Salish)
Wind Dried Salmon
Wind dried salmon was an important part of St'at'imc diet and trade. The dried salmon would be a main food source over winter when food was harder to come by. The dried salmon was also used to trade with other tribes for other necessities. I paint wind dried salmon because I cannot participate in this tradition anymore. The lack of salmon in our communities is a grievous tragedy. I paint what I recollect and the further away I get the more the details become obscured by time. A tradition of utilizing the abundance of summer to preserve for the future of winter might come to an end. Let us hope we can save the future now.
Biography
Russell Wallace is an award-winning composer, producer and traditional singer from the St'at'imc Nation (Salish) in Canada. His music has been part of a number of film and television soundtracks and theatre/dance productions. Wallace has been part of award-winning recording groups such as Kalan Wi and Spiritual Warriors. In 2019 Wallace was the artist in residence with the TD Vancouver International Jazz Festival. Wallace also has been the artistic director for the Aboriginal Electronic Music Festival and is currently the Indigenous Vocal Ensemble at Vancouver Community College. In 2022, Russell was awarded the Lieutenant Governor's Arts and Music award in recognition of his music and cultural contributions.
russellwallace.bandcamp.com
---
SUSI MILNE
"twinkle in my eye-eye-eye"
twinkle in my eye-eye-eye (a space time interaction with parks, people and paint) is an art project Susi Milne has completed with people who are regular attendees of McBride Park. Over a period of several weeks, Milne created artworks (drawings and paintings) from her photographs of various Park visitors who have provided permission to be photographed. These regular visitors to the Park include a woman enjoying her solitary picnic luncheon, parents with children at play and rest using the Park playground facilities, a tennis player in full game mode on the courts and a crew of tennis players relaxing after a game. A very vocal resident crow couple is also featured, as well as a special tribute to our dearly departed community-minded Dog named JD. As artists in residence here in our beloved McBride Park, we believe this community engagement process is a way to interact with Park visitors and acknowledge their attendance interests as creative legacy art banners.
Biography
Susi Milne is a Canadian artist known for her drawings, watercolours and mixed media art pieces. Milne's work ranges from paintings, paper and textile sculptures and video/photo-based art to poetry/performance art. Milne's eclectic practice is informed through her life and work as "Living Art".
Milne has exhibited and performed nationally and internationally. All of her paintings that were part of S.P.A.C.E. 2021 were sold into private collections.
instagram.com/tibbedragon777
---
LAURA LEE COLES
Machnaimh Préacháin (Irish Gaelic) — Crow Reflections
Drawing upon the various Celtic symbolisms of the Crow (arcane knowledge, prophecy, strategy, wisdom, and messages), I placed my photographic images stacked as if a form of a totem to express my spiritual connection with Crow through my Irish family ancestry.
I have photographed crows over the many years and made friends with several individual and groups of crows during my artist residency with Vancouver Park Board. The Crow shown in this banner was photographed at Jericho Park. I was walking under the cedar trees near the large pond. The Crow flew in to be with me and hung out quite a while watching me as I photographed. For me, the Crow represented transformation and change.
I intend for the reflective images to extend the consciousness of the symbolism of transformation and change. Light throughout many cultures is recognized as having spiritual symbolic attachments to illumination, awareness and wisdom.
Biography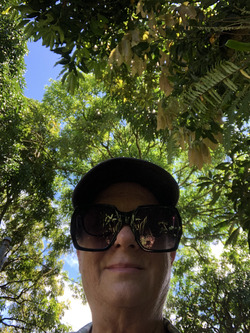 Laura Lee Coles is an arts-based researcher, published writer and practicing interdisciplinary artist. Laura Lee's interest in the interconnected relationships between human, technology, and nature drives the inspiration of her interdisciplinary arts practice. Her work has exhibited in galleries, including international digital arts and music festivals in Canada, the United States, and Europe. She holds a Master of Arts from Simon Fraser University from the School of Interactive Arts and Technology (SIAT) and is the founder of IMAPON/LocoMotoArt, artists-in-residence with Decolonization, Arts and Culture Vancouver Park Board in British Columbia, Canada at McBride Park, Kitsilano.
locomotoart.weebly.com
---
Laura Lee Coles
Spirit Force
Masks form disguises, adornment, spiritual symbolism, and are generally used in a performance, costuming or ritual. Representing supernatural beings, ancestors, or imaginary beings, it is believed by some, that masks hold a power, a spirit so that the wearer has a direct connection to the mask's "spirit force." Masks also hide our real self-identities.
Since the Stone Age, mankind has created masks from all kinds of materials using woods, metals, shells, fibres, ivory, clay,  horn, stone, feathers, leather, furs, paper, cloth, and plant life such as corn husks. For Spirit Force, I draw upon this cultural history. I fused a collection of photographs I took in my studio of Pride Masks (Rainbow colours) on top of a hand-woven rug from Iran. I then blended the mask images with photographs I shot at Jericho Park and Kitsilano Beach. With these two image libraries I used R-Combo (a proprietary software created by Rob Scharein) and arrived at many digital collages. I chose a few from that collection for this banner.
The final mask images were created randomly by the program. I believe they bring into focus the mingled natural landscape of water, trees, bark, leaves, rocks, sand, a crow and hand shadow. Intermixed with these natural elements, the masks form an interesting series of faces that seem conjoined with a sense of place, identity — a Spirit Force.
---
ROB SCHAREIN
Moon and Earth
For this piece I chose not to show my own artwork, but some spectacular public domain imagery from two NASA missions. The black and white image was taken by the Lunar Reconnaissance Orbiter that has been orbiting the Moon since 2009. It shows the central peak of the crater Tycho, the most prominant feature on the face of the Full Moon. The other two images were taken by the Landsat satellites and highlight the stunning contrast between our lush and living Earth with the lifeless surface of our Moon. Since 2007, I have been regularly taking my telescope to Kits Beach to show unsuspecting passers-by close up look of the Moon. The purpose is not to give an Astronomy lesson, but to give people an aethetic experience. To present the Moon as a work of art. These Moon viewing evening were halted during the pandemic years, but I am planning to bring them back to this place, McBride Park.
svs.gsfc.nasa.gov/Gallery/LunarReconnaissanceOrbiter.html>
landsat.gsfc.nasa.gov
Biography
As a former Astrophysicist, Rob is keenly interested in the interplay between Science, Art and Mathematics. He is a developer of high performance graphics software that draws from the beauty of Nature to create engaging interactive art pieces. Rob holds a Ph.D. in Computer Science from the University of British Columbia. His arts practice interests include computer generative, gesture control and interactive installations, including 3D Virtual and Augmented Reality environments. Rob has exhibited his work at museums and arts festivals internationally, as well as live performace works and theatre.
knotplot.com